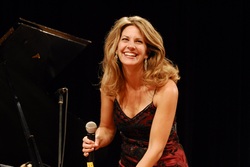 MARA BONDE, SOPRANO
Mara Bonde has thrilled audiences in diverse venues throughout the United States and Europe with her electric stage presence and musical artistry. Her voice has been described as having "sweet purity of tone" (Boston Herald) and "ravishing" (The Boston Globe). She has been the guest artist for "Holiday Pops" with the Boston Pops, and with the Baton Rouge, Lansing, New Haven, and Charlotte Symphony Orchestras, and the Naples Philharmonic, and many others. In addition to operatic engagements, such as the Handel & Haydn Society and Boston Baroque, Mara also performs regularly with Boston Musical Theater (specializing in the "Great American Songbook"), both locally and abroad, and has toured with BMT in South Korea, Russia and Belgium.


---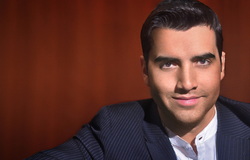 CHRISTIAN FIGUEROA, TENOR
Puerto Rican singer and actor Christian Figueroa graduated from Syracuse University and received his Masters in Music from the New England Conservatory of Music. His unique combination of vocal and dramatic skills has been heard at Carnegie Hall and Fenway Park, as well as recordings with Boston Modern Orchestra Project. Christian also stays active in the commercial world and can be seen in commercials for CT State Lottery, KFC, United Airlines, Pearl Vision, Orbit Gum, and others. He recently completed filming for the German movie, Warum hab ich ja gesagt? and has also been featured on CNN's "Career Connections" and on the People En Español Website.


---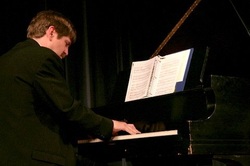 DAN LOSCHEN, PIANIST AND DIRECTOR
Dan Loschen is a graduate of Oberlin and New England Conservatories. He is assistant chair of the Jazz Department at the Rivers School Conservatory, where he teaches many piano students in both jazz and classical genres, as well as coaching jazz ensembles and teaching music theory. As the music director and arranger for Boston Musical Theater, he has accompanied and arranged the music BMT's performances for the last decade. He also performs as a pianist at clubs and function venues throughout New England. For additional information, you can find him at
http://www.danloschen.com
---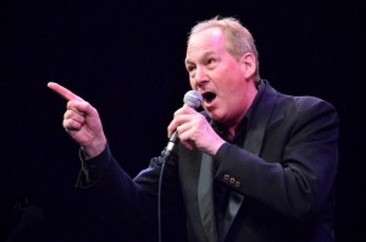 DAVID RIPLEY, BASS/BARITONE
David Ripley is heard widely in oratorio, recital, chamber opera, early and contemporary programs, and cabaret. With BMT, David has performed in Paris, Brussels, Moscow, St. Petersburg, and Seoul, South Korea. He was featured in Peter Childs' one act opera,
Embers
, and was highly praised by Richard Dyer in the Boston Globe. David has appeared on numerous occasions with the Aston Magna and New England Bach Festivals. He is featured on the BMT CDs:
All That Jazz, We'll Meet Again: The Music of World War II,
,
Fly Me to the Moon: America's Vocal Legends
,
and
Blues in the Night
. He has recorded two solo CDs,
A New Season
and
Ne Point Passer
.
In addition to his performing activities, he is Professor of Music at the University of New Hampshire, where he teaches voice and directs the opera workshop.
---
LEIGH BARRETT, MEZZO-SOPRANO
Although Leigh has her degree in opera from Baldwin-Wallace Conservatory in Ohio, she has found her musical home on the musical theatre She has had the pleasure to have played many stages around Boston including: Company, The Mikado, Big River, Animal Crackers, Nicholas Nickleby, Grey Gardens, Follies, Souvenir, A Little Night Music, and Sunday in the Park with George (The Lyric Stage Company); The Drowsy Chaperone, The Great American Trailer Park Musical, Adding Machine: A Musical, Passion, A Class Act, Elegies, Songs for a New World,The Mystery of Edwin Drood (SpeakEasy Stage), The World Goes 'Round, Indulgences, Dessa Rose, Side By Side By Sondheim, Into the Woods, Ragtime, The Threepenny Opera, Sweeney Todd (New Repertory Theatre), Gypsy, Pal Joey, You Never Know, Picnic, A Christmas Carol (Stoneham Theatre), Marry Me A Little, Jacques Brel Is Alive and Well (Gloucester Stage), Car Talk the Musical (Central Square Theatre) and for the past 4 seasons she has played Mrs Cratchitt/Ghost of Christmas Past at North Shore Music Theatre. Leigh is the proud recipient of two Elliot Norton Awards and two IRNE Awards. Much love to HB and the boys.
---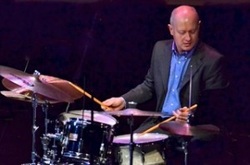 BERTRAM LEHMANN, PERCUSSIONIST
Bertram Lehmann possesses a flexible and fluid style of drumming within a multitude of musical contexts including Jazz, Latin, World Music and Classical. He continues to perform with many acclaimed artists in Boston, New York, and elsewhere, and has toured in India, Spain, Ghana, Ecuador, Mexico, and with BMT's Russian and Korean trips. He is Assistant Professor of Percussion at Berklee College of Music.

---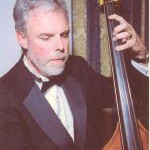 RICH APPLEMAN, BASS
Rich Appleman was, until his recent retirement, the chair of the bass department at Berklee College of Music. He was responsible for adding the electric bass to the Berklee curriculum, with the help of Steve Swallow, John Repucci, and John Neves. Rich has performed with Lionel Hampton, Sweets Edison, Jon Scofield, the Boston Pops, Marvin Hamlisch, Gregory Hines, Bernadette Peters, and Rosemary Clooney. He is the founding bassist of The Fringe, with whom he has three recordings. Rich has performed in the theater with Eartha Kitt, Mickey Rooney, and Rex Harrison, and played in the Broadway pit orchestra for Cats, Les Miserables, Miss Saigon, Peter Pan, Secret Garden, Annie Get Your Gun, and 42nd Street. He has performed internationally with Boston Musical Theater.

Rich is the author of Reading Contemporary Electric Rhythms, Chord Studies for the Electric Bass with Joe Viola, and Berklee Practice Method. He is a columnist for Bass Player magazine and active member of the International Society of Bassists. Rich played tuba and acoustic bass in the Navy from 1964-1968 and graduated summa cum laude from Berklee College of Music, with a degree in music education, in 1972. Rich was a member of the Berklee faculty for forty years.


---
In addition to these core members of the group, there are a few other friends who perform with us frequently:
Additional Artists